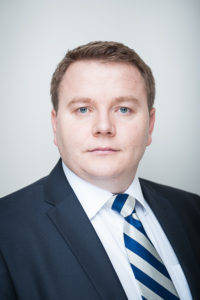 Viorel V. Ureke obtained his J.D. degree from William Mitchell College of Law in 2015. Viorel represents clients before the Executive Office of Immigration Review in detained and non-detained settings, Board of Immigration Appeals, USCIS, U.S. Customs and Border Protection, U.S. consulates abroad, and before various agency offices within the Department of Homeland Security and Department of State. Viorel also represents clients in selective criminal and civil matters.
Viorel grew up in Moldova but immigrated to the United States in 2001. As an immigrant, Viorel experienced many challenges along the way and understands first-hand the obstacles faced by many aspiring immigrants who want to make the United States their home. After Viorel obtained his degree in Paralegal Studies in 2008, he began working for R. Leo Pritschet Law Offices as a paralegal, acquiring extensive experience in the area of immigration law and assisting in handling challenging and complex immigration cases. During law school, Viorel continued working for R. Leo Pritschet Law Offices as a law clerk and volunteered as a student attorney with the Ramsey County Public Defender's Office.
Viorel has a dedication to client service and a passion for client success. He provides outstanding immigration counsel to clients with a reputation for success. He takes on challenging and complex cases, resolving these with creativity and knowledge using "out of the box" thinking.
Viorel achieves successful results for his clients because he listens to each client's unique story, pays attention to details, identifies strong points in complex situations, and develops creative solutions. Through many years of experience in immigration law, Viorel has acquired in-depth knowledge of the United States immigration law and its process. Viorel is dedicated to helping other immigrants navigate the immigration process and accomplish their goals and aspirations no matter how simple or how complex the issues might be.
In his spare time he enjoys cooking, swimming, running, and playing tennis.
LANGUAGES
BAR ADMISSIONS
PROFESSIONAL MEMBERSHIPS
American Immigration Lawyer's Association (AILA)
Minnesota State Bar Association (MSBA)
Hennepin County Bar Association
American Bar Association
EDUCATION
William Mitchell College of Law, Juris Doctor
Metropolitan State University, B.A. Bachelor of Arts

Focus Area: Legal Studies Minor: Political Science

North Hennepin Community College, A.S. Degree Paralegal
PRO BONO WORK
Volunteer Lawyers Network, volunteer attorney